CHRISTIE WILSON
Cell: 801.891.4938
christie@mtnvalleyrealestate.com


TIMBERLAKES UTAH QUESTIoNS & ANSWERS
Everyone knows I live in and absolutely LOVE Timberlakes! After my very first visit to Timberlakes, I was so punch-drunk in-love, I drove home and immediately put our home in Centerville on the market. 3 months later, I was livin' the dream in a little cabin on Deer Creek Drive. I sell Real Estate in Timberlakes Utah simply because I feel there isn't a better place to own a cabin or home in Utah. When I tell people about the mountain, I get a lot of the same questions - so here is a quick Q & A for all folks thinking about owning a mountain home in Utah:
WHAT IS TIMBERLAKES ALL ABOUT?
Timberlakes is a Recreational/Residential Development that was established in 1971 in the mountains East of Heber City, UT in Lake Creek Canyon. Comprised of 1,537 lots spread out over nearly 16,000 acres, there are only about 1,000 dwellings. About 20% of the homes here house year-round residents. The roads are all maintained year-round, making Timberlakes the most accessible "recreational" area within 90 minutes of Salt Lake City, UT. Enjoy pines and quakies, moose, elk, deer, creeks, ponds and lakes at elevations of 6,000-8,600 feet! In winter - enjoy private access to the best snowmobiling in the state!
WHERE IS TIMBERLAKES LOCATED?
Timberlakes is located up Lake Creek Canyon, about 7.5 miles due East of Heber City. From SLC, take I-80 East beyond Park City. Take the Highway 40 exit toward Heber/Vernal. Once you enter Heber City, turn left onto Center Street and head East 7.5 miles. Center Street will turn into Lake Creek Road. There is a sign for Timberlakes on the south side of the road, and you'll see the Guard Shack Entrance. The Guard Shack is manned from 6am to 10pm seven days a week. Owners are provided a gate remote once they invest that can open the gate electronically should the guard not be present. Additionally, a phone is provided at the entrance that guests can utililze to call up to the cabin should they visit, and permission granted to allow access.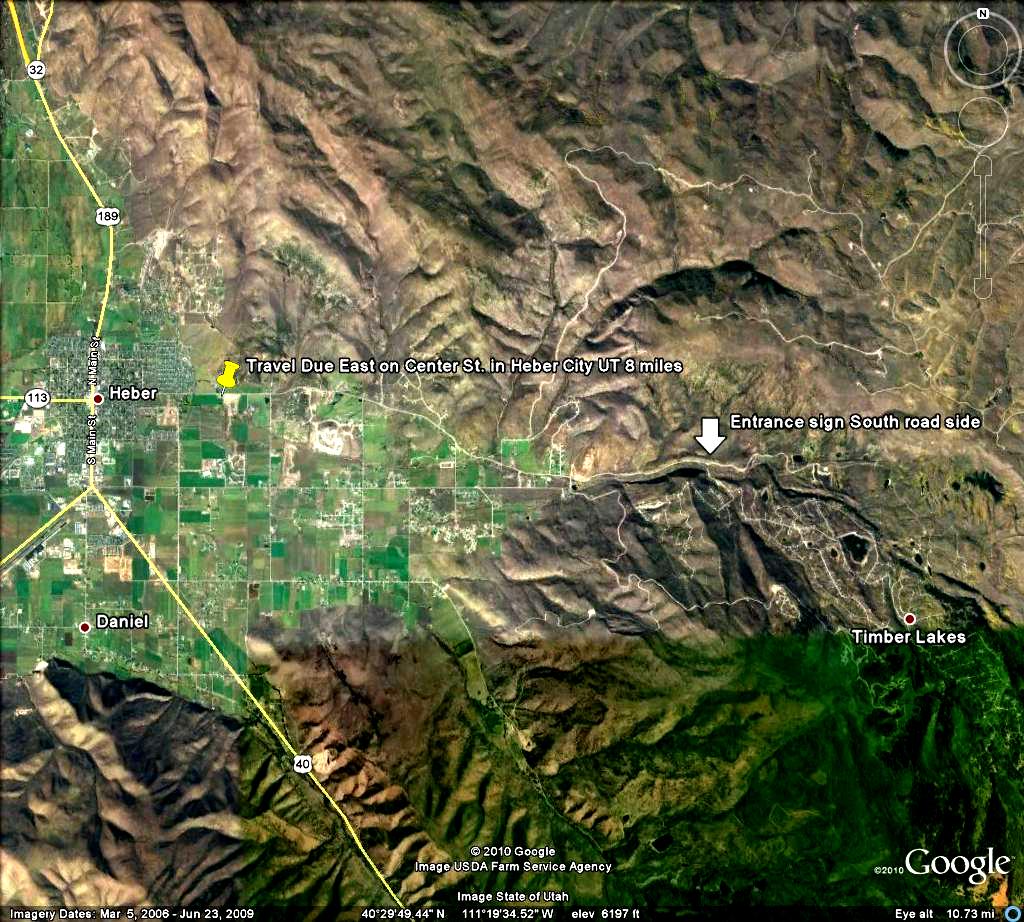 IS THIS AREA ACCESSIBLE ON A YEAR ROUND BASIS?
Yes. The Home Owners Association is providing year round access. Snow removal on the lower part of the mountain and main roads is always first priority, and sometimes the higher elevations roads don't get plowed for a day or so after a storm. All owners are strongly advised to have chains on their tires to access very high properties soon after a storm - and 4-wheel drive is mandatory. Some residents live even at 8,000+ feet in elevation because the roads stay so well maintained. Timberlakes is the only residential/recreational area that allows this type of access this high in elevation year-round.
ARE ATV'S ALLOWED? WHAT IS THERE TO DO?
ATV's are very popular here – and all roads have ATV easements on them! There isn't a trail system inside the development, but there is epic riding opportunities in the area within a very short distance. If you are a horseman, horses also enjoy the same access that motorcycles do, and horses and ATV's share the road with vehicles.
Aside from the general atmosphere of recreation and relaxation, the largest recreational draw to the community is Snomobiling. There is private access to the back-side of the Currant Creek and Strawberry Reservoir areas , so owners can snowmobile from their front door and have thousands of acres of land at their disposal.
If snowmobiling isn't your thing, snowshoeing and cross country skiing are available, and you can be on the slopes skiing or snowboarding at Sundance Ski Resort, The Canyons in Park City, or Park City Mountain Resort in – literally – 20 minutes. Lots of boats and fisherman up here- enjoying Deer Creek Reservoir, Jordanelle, and Strawberry Reservoir. Fly fisherman love the proximity to the Provo River or the fishing in the Currant Creek valley – which is about 30 minutes around the mountain. OR – jump on ATV's and make a day-ride of it and fish the Strawberry River by way of the National Forrest Area.
Hunters can access great game opportunities just up the road in the National Forrest Area – if you go back out the Guard Shack Entrance into Timberlakes, continue East up the Canyon, you'll run smack into National Forrest Area about 5-6 miles up Lake Creek Road.
HOW MUCH ARE THE HOMEOWNER ASSOCIATION DUES AND WHAT DO THEY COVER?
The Homeowner's Association dues are $613.00 per year and they cover daily operations, road maintenance, machinery, common area taxes and insurance and garbage removal. HOA fees are paid annually in January.
WHAT KIND OF NATURAL VEGETATION IS IN THE AREA?
The area is wooded with the lower elevations populated with Scrub Oak, Sagebrush, Buck Brush, Choke Cherry and Rabbit brush. The higher elevations have Aspen, Fir and Lodge Pole Pine trees. Some Cottonwood trees near the creeks. Wild flowers are profuse in the springtime and summer.
WHAT UTILITIES & SERVICES ARE AVAILABLE?
Power provided by Heber Valley Light & Power. Culinary water provided by Timberlakes Special Service District, which is a private water district private to Timberlakes. Phone and internet provided by Allwest Communications. All homes have septic systems, and most utilize propane tanks. Cell phone service is available in most areas on the mountain with Verizon or T-Mobile.
Mail delivery at the Mail House, Security, Medical, Fire and School Bus pick-ups are available. School kids meet outside the guard shack on Lake Creek Road each day. There is parking available for parents.
ARE FEES INVOLVED WITH HOOKING UP TO THE WATER?
For properties that are not already connected to culinary water, there was a $3,500 impact and water connection fee for the actual connection to the Timberlakes Special Service District Water Co. System. Then, a $2,240-3,940 meter fee, depending on meter size. Some properties for sale have a portion of these fees paid, offering a great value. To note: all the water lines in Timberlakes were replaced in 2010 to bring more water pressure to all properties and bring the fire-system up to code. Additioally, provisions for a fire house were put in place and construction on the fire house should be complete Fall of 2011. The assessed cost of the project is $6,800 per lot to each owner. The cost could have either been paid up front in full, or amortized in payments over 20 years for bout $40 per month (in addition to usage fees). Some people get worried about the additional cost of the water improvement fee - but to me the cost of the water improvements is off-set by the reduction in Homeowner's Insurance Rates which will reduce once the fire house is built because Timberlakes Cabins will no longer be considered in a "fire hazard area."
IS TIMBERLAKES ZONED FOR HORSES?
Yes, Timberlakes Estates is zoned for horses; however horses are not allowed to pasture year-round. Bring your horses and trailers and even build small seasnal corrals to enjoy the outdoors and the access to National Forest.
WHAT KIND OF ROADS ARE THERE?
Most of the roads within the project are dirt and gravel and are accessible by 2 wheel drive car in the summer. During the winter months a 4WD is mandatory. People without 4WD park inside the Gate at the base of the mountain for short-term stay. For folks bring up large Toy Haulers or trailers, there is a Snowmobile parking area about mid-mountain that is accessible off paved road for parking.
HOW FAR AWAY IS TIMBERLAKES FROM SALT LAKE CITY?
About 50 minutes from downtown. From Orem, its about 40 minutes.
WHAT ARE THE VIEWS LIKE?
The panoramic views of the surrounding mountains and lakes is part of what makes Timberlakes so wonderful. While views from each lot are different, many look out over the Timpanogos and Wasatch Mountains, as well as the Heber Valley on some properties. Other properties higher up the mountain enjoy views of adjacent common area and/or privately owned mountain side that will not be developed. Really--it's just gorgeous!
WHAT SCHOOL DISTRICT IS TIMBERLAKES IN?
The area is located within the boundaries of the Wasatch County School district - Old Mill Elementary, Wasatch Junior High, Wasatch High School.
ARE THERE MEDICAL AND FIRE RESPONSE SERVICES AVAILABLE?
Yes, Timberlakes Estates has its own Emergency Response Team of certified EMS professionals who live here year-round. Information about the team is found on their website: http://www.timberlakesems.com/. Additionally, there is an IHC and many care clinics located in central Heber City.
Currently, plans for a fire station are in the works and the fire house should be completed by 2012. All homes on the mountain of newer construction are/were required to have fire suppression systems installed.