CHRISTIE WILSON
Cell: 801.891.4938
christie@mtnvalleyrealestate.com


TIMBERLAKES UTAH QUESTIoNS & ANSWERS
Everyone knows I live in and absolutely LOVE Timberlakes! After my very first visit to Timberlakes, I was so punch-drunk in-love, I drove home and immediately put our home in Centerville on the market. 3 months later, I was livin' the dream in a little cabin on Deer Creek Drive. I sell Real Estate in Timberlakes Utah simply because I feel there isn't a better place to own a cabin or home in Utah. When I tell people about the mountain, I get a lot of the same questions - so here is a quick Q & A for all folks thinking about owning a mountain home in Utah:
WHAT IS TIMBERLAKES ALL ABOUT?
Timberlakes is a Recreational/Residential Development that was established in 1971 in the mountains East of Heber City, UT in Lake Creek Canyon. Comprised of 1,537 lots spread out over nearly 16,000 acres, there are only about 1,000 dwellings. About 20% of the homes here house year-round residents. The roads are all maintained year-round, making Timberlakes the most accessible "recreational" area within 90 minutes of Salt Lake City, UT. Enjoy pines and quakies, moose, elk, deer, creeks, ponds and lakes at elevations of 6,000-8,600 feet! In winter - enjoy private access to the best snowmobiling in the state!
WHERE IS TIMBERLAKES LOCATED?
Timberlakes is located up Lake Creek Canyon, about 7.5 miles due East of Heber City. From SLC, take I-80 East beyond Park City. Take the Highway 40 exit toward Heber/Vernal. Once you enter Heber City, turn left onto Center Street and head East 7.5 miles. Center Street will turn into Lake Creek Road. There is a sign for Timberlakes on the south side of the road, and you'll see the Guard Shack Entrance. The Guard Shack is manned from 6am to 10pm seven days a week. Owners are provided a gate remote once they invest that can open the gate electronically should the guard not be present. Additionally, a phone is provided at the entrance that guests can utililze to call up to the cabin should they visit, and permission granted to allow access.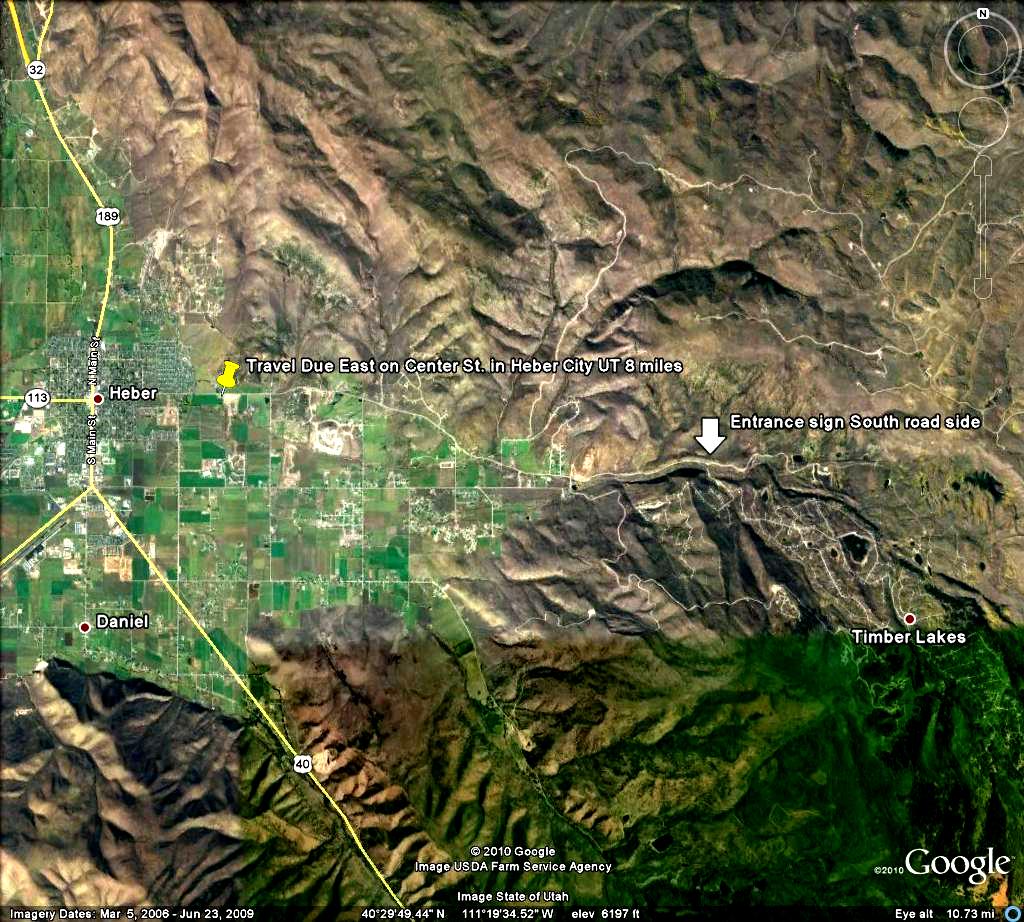 IS THIS AREA ACCESSIBLE ON A YEAR ROUND BASIS?
Yes. The Home Owners Association is providing year round access. Snow removal on the lower part of the mountain and main roads is always first priority, and sometimes the higher elevations roads don't get plowed for a day or so after a storm. All owners are strongly advised to have chains on their tires to access very high properties soon after a storm - and 4-wheel drive is mandatory. Some residents live even at 8,000+ feet in elevation because the roads stay so well maintained. Timberlakes is the only residential/recreational area that allows this type of access this high in elevation year-round.
ARE ATV'S ALLOWED? WHAT IS THERE TO DO?
ATV's are very popular here – and all roads have ATV easements on them! There isn't a trail system inside the development, but there is epic riding opportunities in the area within a very short distance. If you are a horseman, horses also enjoy the same access that motorcycles do, and horses and ATV's share the road with vehicles.
Aside from the general atmosphere of recreation and relaxation, the largest recreational draw to the community is Snomobiling. There is private access to the back-side of the Currant Creek and Strawberry Reservoir areas , so owners can snowmobile from their front door and have thousands of acres of land at their disposal.
If snowmobiling isn't your thing, snowshoeing and cross country skiing are available, and you can be on the slopes skiing or snowboarding at Sundance Ski Resort, The Canyons in Park City, or Park City Mountain Resort in – literally – 20 minutes. Lots of boats and fisherman up here- enjoying Deer Creek Reservoir, Jordanelle, and Strawberry Reservoir. Fly fisherman love the proximity to the Provo River or the fishing in the Currant Creek valley – which is about 30 minutes around the mountain. OR – jump on ATV's and make a day-ride of it and fish the Strawberry River by way of the National Forrest Area.
Hunters can access great game opportunities just up the road in the National Forrest Area – if you go back out the Guard Shack Entrance into Timberlakes, continue East up the Canyon, you'll run smack into National Forrest Area about 5-6 miles up Lake Creek Road.
HOW MUCH ARE THE HOMEOWNER ASSOCIATION DUES AND WHAT DO THEY COVER?
The Homeowner's Association dues are $613.00 per year and they cover daily operations, road maintenance, machinery, common area taxes and insurance and garbage removal. HOA fees are paid annually in January.
WHAT KIND OF NATURAL VEGETATION IS IN THE AREA?
The area is wooded with the lower elevations populated with Scrub Oak, Sagebrush, Buck Brush, Choke Cherry and Rabbit brush. The higher elevations have Aspen, Fir and Lodge Pole Pine trees. Some Cottonwood trees near the creeks. Wild flowers are profuse in the springtime and summer.
WHAT UTILITIES & SERVICES ARE AVAILABLE?
Power provided by Heber Valley Light & Power. Culinary water provided by Timberlakes Special Service District, which is a private water district private to Timberlakes. Phone and internet provided by Allwest Communications. All homes have septic systems, and most utilize propane tanks. Cell phone service is available in most areas on the mountain with Verizon or T-Mobile.
Mail delivery at the Mail House, Security, Medical, Fire and School Bus pick-ups are available. School kids meet outside the guard shack on Lake Creek Road each day. There is parking available for parents.
ARE FEES INVOLVED WITH HOOKING UP TO THE WATER?
For properties that are not already connected to culinary water, there was a $3,500 impact and water connection fee for the actual connection to the Timberlakes Special Service District Water Co. System. Then, a $2,240-3,940 meter fee, depending on meter size. Some properties for sale have a portion of these fees paid, offering a great value. To note: all the water lines in Timberlakes were replaced in 2010 to bring more water pressure to all properties and bring the fire-system up to code. Additioally, provisions for a fire house were put in place and construction on the fire house should be complete Fall of 2011. The assessed cost of the project is $6,800 per lot to each owner. The cost could have either been paid up front in full, or amortized in payments over 20 years for bout $40 per month (in addition to usage fees). Some people get worried about the additional cost of the water improvement fee - but to me the cost of the water improvements is off-set by the reduction in Homeowner's Insurance Rates which will reduce once the fire house is built because Timberlakes Cabins will no longer be considered in a "fire hazard area."
IS TIMBERLAKES ZONED FOR HORSES?
Yes, Timberlakes Estates is zoned for horses; however horses are not allowed to pasture year-round. Bring your horses and trailers and even build small seasnal corrals to enjoy the outdoors and the access to National Forest.
WHAT KIND OF ROADS ARE THERE?
Most of the roads within the project are dirt and gravel and are accessible by 2 wheel drive car in the summer. During the winter months a 4WD is mandatory. People without 4WD park inside the Gate at the base of the mountain for short-term stay. For folks bring up large Toy Haulers or trailers, there is a Snowmobile parking area about mid-mountain that is accessible off paved road for parking.
HOW FAR AWAY IS TIMBERLAKES FROM SALT LAKE CITY?
About 50 minutes from downtown. From Orem, its about 40 minutes.
WHAT ARE THE VIEWS LIKE?
The panoramic views of the surrounding mountains and lakes is part of what makes Timberlakes so wonderful. While views from each lot are different, many look out over the Timpanogos and Wasatch Mountains, as well as the Heber Valley on some properties. Other properties higher up the mountain enjoy views of adjacent common area and/or privately owned mountain side that will not be developed. Really--it's just gorgeous!
WHAT SCHOOL DISTRICT IS TIMBERLAKES IN?
The area is located within the boundaries of the Wasatch County School district - Old Mill Elementary, Wasatch Junior High, Wasatch High School.
ARE THERE MEDICAL AND FIRE RESPONSE SERVICES AVAILABLE?
Yes, Timberlakes Estates has its own Emergency Response Team of certified EMS professionals who live here year-round. Information about the team is found on their website: http://www.timberlakesems.com/. Additionally, there is an IHC and many care clinics located in central Heber City.
Currently, plans for a fire station are in the works and the fire house should be completed by 2012. All homes on the mountain of newer construction are/were required to have fire suppression systems installed.
TIMBERLAKES HOA RSS FEED
Posted on 21 October 2009 | 8:57 pm
To the nice lady who left a nastygram on the answering machine, WE ARE NOT THE WATER COMPANY.  If you want to rant about the water company, please call them; we can't help you. We are a customer of the water company, just like you.
For those of you who are still troubled by this concept, let me make it as simple as possible. Timber Lakes Property Owners Association (us) is NOT the Timber Lakes Water Company (them). Us is not them. Them is not us. We are different. We are not the same. We are the property owners in Timber Lakes. They are the water company. They deliver water. We do other stuff. We have a different name, address and telephone number than they do. If you need to talk to someone about water, your water bill, your water meter, the construction project being done by the water company, why you can't water outside, water on your knees, watercress, water boarding, or anything else relating to water, call the water company at 435.654.0125 or go into their office at 190 North Main in Heber City. They are there. We, on the other hand, are here, in Timber Lakes. We are happy to talk to you about the stuff we do for the owners, which, by the way, does NOT include anything to do with water.
Gary Hume, a member of our Board of Directors, coordinates communication between our Board and the Board that governs the water company. Gary is not a consumer advocate for owners regarding their water problems. If you have a problem relating to water, you must contact the water company. Gary cannot and does not contact them for you. If you have a problem with the telephone company, you call the telephone company. You would not call Gary and ask him to call the telephone company for you. Likewise, you do not call Gary and ask him to contact the water company if your water bill is too high, or your water gets turned off, or you are mad at the water company because they dug up your road. You call the the water company yourself. You are their customer. They are nice people. They will listen to your concern and they will respond to you.
I am tempted to go on, but I am thirsty and am going to get a drink of water, for which I will receive a bill from the water company. I am tired and will probably regret writing this in the morning. If reading this makes you mad, please call the water company and ask them to fire me.
John Blickenstaff
For the Board of Directors of the
Timber Lakes Property Owners Association
(not the water company)
...
more»
Posted on 19 May 2009 | 5:19 pm
The road grading is grating on someone's nerves. We received an anonymous fax at the Timber Lakes office today. The quality and font size of the document does not allow us to simply show you the fax here on the website. We have retyped it, exactly as we received it, complete with the original text and spelling. The content has not been edited in any way.
May 18, 2009
Dear Timber Lakes Association:
It is out of complete frustration that we write this letter to you. In all the years that we have lived in Timber Lakes, the roads have  never been in such poor condition. Unlike the letter that circulates once a month claiming that the roads are always taken care of, we have not seen a pot hole (some very deep), rut, deep crevices etc. filled or taken care of in three years.
The roads we are talking about are Greenleaf, Acorn and Deer Creek roads. They haven't seen a grater or ANY fill dirt in the last three years. The roads are in horrible need of some fill dirt and grating. When it used to be done (years ago) it would take a day or so to smooth out the roads so they were drivable….that is doing all three in our area. We know there are a lot more, obviously.
We realize your response to this will be that there are so MANY roads and they do the best they can. Our response to you would be that we have all driven around and we would suggest less time on the pricy landscaping of the Maintenance building and grooming around the ponds, and spend some time grating the roads. We pay just as money a year to have some attention paid to our roads as the "larger" homes pay.
Simply drive the roads of the huge homes and see for yourselves the difference…then come and drive Greenleaf, try to drive Acorn without getting stuck in the huge, long, deep crevices and then go up Deer Creek. You wouldn't like living on these negelcted raods any more than all of the residents on all three roads do.
Thank you for listening. We felt it should be said even though we are confident there will be reasons why it doesn't happen again this year.
How about that truck that was bought for $80,000 that did no good at all and you can't recoup any of the Association money that was spent…I wonder how many roads we could have fixed for $80,000????? I'm sure that everyone who pays their dues would love to know!
We usually do not respond to letters, emails or faxes that are not signed by lot owners but we made an exception in this case as we wish to clarify some points raised in the letter.
Just last week a lady that lives on a road just north of the ones listed in the letter called to let me know of some big holes in her road and asked that we do something about them as soon as possible. Because she took the time to call me and leave a message, I checked into the issue and instructed our road crew to fix it. Within two days, the holes were filled and the road was graded. I then returned her call to let her know the road crew had fixed the road and hoped that she was satisfied. This is just one example of how we respond to our fellow owners.
If the person that wrote the anonymous letter had taken the time to give us specifics, including their name, I would know who to call to discuss the road issues.
As for the "pricy
[sic] landscaping" around the new vehicle storage building – we planted those trees, for which we negotiated a huge discount, for two reasons – 1. To make the view of the building to the surrounding neighbors a little less obtrusive, and 2. Wasatch County required us to landscape around the building as part of our building permit. We do not do any grooming around ponds. The Jones Lake dam was repaired this last year by the folks down in the valley who own the water. We cleaned up most of our stuff at Duck Lake and moved it to the new building, as we promised the neighbors we would do.
Regarding "larger" and "huge" homes getting special road treatment, I point out the following – There are larger and huge homes in every plat in Timber Lakes. There are larger and huge home on Acorn and Deer Creek. By definition, there are homes on Greenleaf that are larger than some homes on some other road. We don't have a road that is reserved for larger or huge homes. Likewise, we don't have a road that is restricted to smaller homes. This Board has never made a single road decision based on the size of home. We do not maintain any road based on the presence or absence of a larger or huge home.
I invite Mr. or Mrs. Anonymous to drive up past my cabin on Buck Way. I was stuck twice in the past three weeks. The President of the Association almost lost his vehicle in a water-filled pothole on the upper mountain a few days ago. We are aware that many roads have serious problems and assure you that no special consideration is given to anyone based on the square footage of their cabin, its location or any relationship they may have to the Association.
I now want to once again, explain why the roads in Timber Lakes are going to be a mess this summer. This is repeat information for anyone who attends our regular Board meetings. The Water Company (no relation to Timber Lakes Property Owners Association, except that you and I fund both entities) has hired a contractor (Sunroc) to install new water pipe along approximately 2/3 of the roads in Timber Lakes. The Water Company has instructed Sunroc to install the pipe in the center of the road. This means that almost every road in our subdivision will be completely torn up. While we do understand that people need to be able to drive to their cabins, it does not make any economic sense to spend a lot of money maintaining a road that soon will be torn up. We can address major problems, but not every problem we would normally fix. The roads above Blue Spruce are already in this condition, having been torn up and left by Sunroc last fall.
What makes matters worse, is that there is not enough money in the Water Company construction contract for the roads to be put back as good as they are now. We are going to be addressing this major concern for the next several years. We will do the very best we can to protect our interests in the roads, but they are going to get worse before they get better. We have discussed these issues with the Water Company and will continue to try to work with them. It's their pipe, our roads and all of it is paid for by the same people, the owners.
Finally, your Board of Directors completely agrees with the comment made by Mr. or Mrs. Anonymous about the truck. The Anonymous Family would already know this if they came to our monthly meetings. The previous Board purchased that truck without proper research as to what type of truck could be useful on the mountain. We have been trying to sell or trade the truck for several months, but have been hampered by the economy, which is affecting all of us.
Like every Board that preceded us, and every Board that follows us, we have to live with the past decisions. Many of those decisions are, in our opinion, good and a few are are questionable. We are doing the best we can with what we have.
When you as a property owner have a concern, please talk to us about it. There are several ways to do this. You can use email, the telephone, send us a comment from the website, write a letter, send us a fax or best of all, come to a meeting in person and share your two cents worth. The Timber Lakes Property Owners Association is made up of the owners of 1530 lots. The members of the Board of Directors are just fellow owners. Some of us live here, some of us are weekenders and all of us care as much as you about the mountain, the roads and how the money is spent. We don't retaliate against a fellow owner who has a problem or disagrees with something. Please don't be afraid to identify yourself. We have met some great people who come to tell us how to do a better job. We cannot respond to an anonymous letter. Contact me and tell me your name and lot number so we can respond directly to you and your concerns! We welcome your input.
By the way, I do not know anything about a letter that is circulated every month about the roads. When you are grating about the grading, contact me. I will listen.
Gary Hume
Road Guy

...
more»